Meet Sue
Sue has been teaching yoga for 10 years and previously ran a successful Bikram Yoga studio in Fleet, UK with her sister for 8 years. She teaches Bikram, Vinyasa and Yin yoga and has a relaxed, calm way of helping you get the most from your practise. Sue enjoys teaching beginners or challenging the more experienced students.
As well as her passion for yoga Sue really enjoys being a host at their retreat. She loves getting involved with the kitchen to make sure the food served is healthy, organic and fresh. Furthermore, she has an eye for detail which can be found in every room of the retreat.
Meet David
Having traveled all over the world for an international communications company , David was ready for  a more peaceful lifestyle . When David and Sue found their retreat location, David was finally where he belonged. David takes care of all the building and design work, even the garden design, and you can see the passion he has for his job in every corner of the retreat. His dedication and imagination inspires people, and can be found in the tiniest of details.
David's management skills are second to none, he knows how to run a tight ship, and that  makes The Palms Retreats the best location for any event. The  service will be organised with military precision, the rooms will look immaculate and the gardens in full bloom, whatever  the season!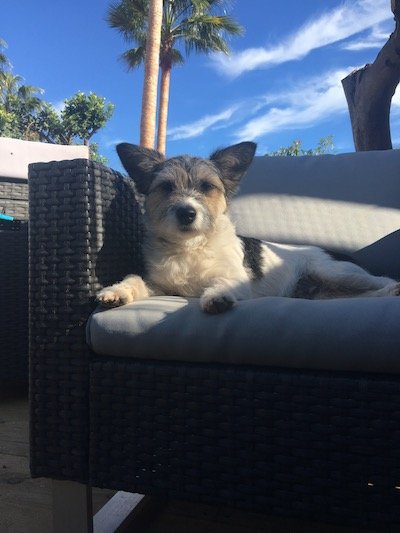 MEET PEGGY
Peggy is a Jack Russel. She is small, cute, loves cuddles, and is lightning fast! Peggy is a very affectionate dog who will curl up on your lap and sleep there all day if she were allowed. Peggy is also great at Yoga, especially the downward dog, it's one of her favourites!
MEET FRED
15 year old Fred is deaf and blind but he is ever so affectionate and loves to cuddle! Fred is completely in his element living out his old age with his new dog friends Peggy & Kevin. He likes to stroll around the resort in the mornings but spends most afternoons asleep in the armchair waiting for dinner.
MEET KEVIN
Kevin is the new kid on the block. We found him in the middle of the road in august 2020 as a 10 week old puppy. We don't really know what breed he is, but he is very playful, full of life and loves being part of each retreat. If you can't find Kevin, you can find him generally by David's side