Vinyasa Yoga Retreat with Alessandro & Ayesha
Join Alessandro Gozzi and Ayesha Ali for a magical 5 nights way in the beautiful and magical Palms Resort in Málaga Spain. Twice daily yoga classes, fantastic weather, delicious food, beautiful accommodation in a scenic part of the country, purpose built yoga shalas and wonderful hosts make this the perfect getaway. Immerse yourself in yoga, chill by the pool, go for wonderful walks in the beautiful countryside and take time for yourself.
We will start the day with an early pranayama and meditation, a short break then leads into an invigorating outside Yoga class followed by relaxing time, or heading off for walks in the country or nearby national parks or the wonderful Southern Spanish historic cities. Later in the afternoon there is another Yoga class which will slow things down for us before dinner.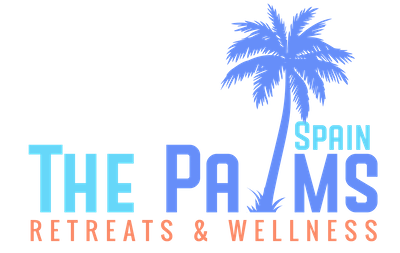 The retreats include your stay in one of our cozy but contemporary rooms either in the converted stables, the Finca or the pool room.
Each room has a twin or double bed, en-suite bathroom with shower and toilet, air-conditioning, ceiling fan, sunny terrace and all toiletries, towels and linen are provided.
Included in this retreat package is use of our heated salt water swimming pool, the large 6 seater jacuzzi  in our tropical gardens, access to all garden areas and the  Olive bar,  the outdoor yoga platform with mountain views and the heated indoor studio
Furthermore, we have free WIFI and we offer a complimentary wash for yoga clothes plus we have all the yoga props for every yoga style.
We will start our Yoga on the Wednesday evening around 5pm, so arrive anytime before then. Our last class will be on Sunday afternoon finishing off with a relaxed last night's dinner. Book your return flight anytime on Monday, unless you are staying for a few extra nights in Southern Spain!
During the week we will have the opportunity to do some Asana clinics where we can break down some asanas that you are working with, and even play with hand balances.
This retreat is for everyone from beginners to experienced yogis. Come on your own or with a friend or partner, you will be with like minded people and we guarantee you will have a relaxing and restorative time away. Want to attend but have a partner who is not interested in the yoga classes? Don't worry, all yoga classes are optional and there is plenty to do at the resort and in the surrounding area, including an 18 hole golf course nearby.
We offer a variety of optional services to book during your free time such as:
Alessandro is the co-founder of YogaVenue Oxford and the Spiralling Crow Teacher Training School. He has been practising Yoga for over 25 years and is a senior teacher, registered with Yoga Alliance Professionals UK.
He completed his initial training at Jivamukti Yoga with founders David Life and Sharon Gannon and went on to train with
Laughing Lotus in New York and in Restorative Yoga with Judith Hanson Lasater. Alessandro teaches with an emphasis on gracefulness, concentration, attention to detail and laughter.
He aims to inspire others to explore the edge of their potential and is particularly interested in how yoga can support us in our daily life.
Ayesha is grateful to all of her teachers for sharing their knowledge of the path. She has completed advanced trainings at Tri Yoga with Anna Ashby and Jean Hall as well as with her main teacher, world-renowned yoga master Sri Dharma Mittra.
Her first 200 hour Vinyasa training was with Katy Appleton and she continues to study movement with Space & Flow teacher Raphan Kebe as well as the art of deep relaxation with the mother of restorative yoga Judith Hanson Lasater.
Ayesha's style pays respect to the roots of yoga whilst inviting students to explore and be playful in their practice to enhance their experience and challenge themselves in new ways.
Frequently Asked Questions