An all inclusive warm weather long weekend to transform your running.
Hosted by Sam Edwards of Core Coaching & Naomi Johns Massage Therapy.
Focusing on improving running technique, strength & flexibility Naomi & Sam will share techniques, tools & practices that have not only continued helped their runners improve form & efficiency whilst minimising or managing injuries but proved successful in helping them achieve their running goals consistently over the years.
Run Strong will be hosted at the luxury resort The Palms Spain in the hills of the stunning Andalusian countryside, just a short drive from Malaga airport.
ALL specifically designed by runners for runners.
We have scheduled the activity timetable around the delicious menu of home cooked vegan & vegetarian meals & snacks to keep us energised, refuelled and feeling fabulous!!
Despite the fun filled agenda there will be plenty of time for some well earned rest & relaxation – whether taking time to chill out in the hot tub, curl up & read a book in the beautiful gardens or making the most of the winter sun relaxing by the pool.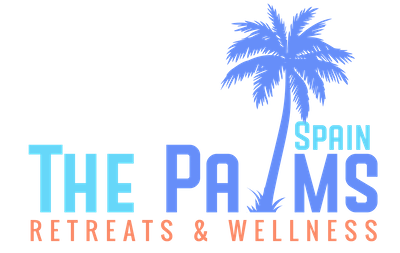 The retreats include your stay in one of our cozy but contemporary rooms either in the converted stables, the Finca or the pool room.
Each room has a twin or double bed, en-suite bathroom with shower and toilet, air-conditioning, ceiling fan, sunny terrace and all toiletries, towels and linen are provided.
Inbegrepen in dit retraitepakket is het gebruik van ons verwarmde zoutwaterzwembad, de grote 6-persoons jacuzzi in onze tropische tuin, toegang tot alle tuinen en de Olive-bar, het yogaplatform buiten met uitzicht op de bergen en de verwarmde binnenstudio
Bovendien hebben we gratis WIFI, bieden we het wassen van je yogakleding gratis aan en hebben we alle yoga benodigdheden voor elke yogastijl.
We want you to run & have fun. During the stay you will experience idyllic runs for all levels of runner; run technique coaching , run specific strength & flexibility classes, informative talks & workshops on managing & preventing injury for those who want to learn plus a 30 minute sports massage.
all these activities will be lead by our expert coaches:
scenic trail runs
small group technique tuition
run specific drills & strength work
pre & post run stretching
interval based training sessions
hill running
run specific educational talks
sports massage
plus:
nutritious home cooked meals
swimming pool
hot tub
bar area
We bieden een verscheidenheid aan optionele services die je in je vrije tijd kunt boeken, zoals:
Functional Performance & Running Coach; Triathlon England level 2 coach; Personal Trainer; Run Technique Instructor; +800hr Experienced Yoga Teacher (ERYT); Holistic Massage Therapist; multiple marathon runner & Ironman triathlete. Lover of trail running, canicross,
open water swimming and road cycling.
www.coreyogawithsam.co.uk
Insta: @coreyoga_21
www.fb.com/COREcaochingwithsam