Spring Yoga Retreat with Jacqueline from Sankalpa Yoga Glasgow
RESTORE your Mind, Body & Spirit with Jacqueline on this 6 day yoga retreat at The Palms Spain.
This Retreat is the perfect opportunity to unwind, relax and recharge. The Palms resort is situated 20 minutes from Malaga and nestled in the small hamlet Al Quiera, a quiet country location with picturesque mountain veiws.
With a heated salt water pool, 2 yoga shala's (indoor & outdoor), 6 seater hot tub, the perfect location for 6 nights of yoga, sun, selfcare and relaxation.
Jacqueline will offer 2 yoga practices per day- morning practice to uplift & energise & early evening practice relax & restore Your days may be filled lounging by the pool, soaking in the hot tub, a massage or perhaps joining one of the many excursions ……the day is yours to be spend as you please.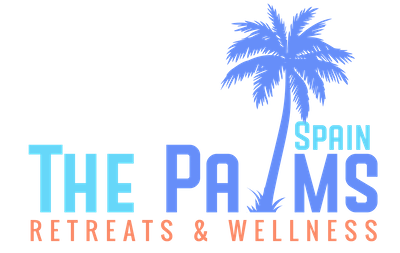 Die Retreats beinhalten Ihren Aufenthalt in einem unserer gemütlichen, aber modernen Zimmer entweder in den umgebauten Stallungen, der Finca oder dem Poolraum.
Jedes Zimmer hat ein Einzel- oder Doppelbett, ein eigenes Badezimmer mit Dusche und WC, Klimaanlage, Deckenventilator, sonnige Terrasse und alle Toilettenartikel, Handtücher und Bettwäsche werden gestellt.
In diesem Retreat-Paket ist die Nutzung unseres beheizten Salzwasserpools, des großen 6-Sitzer-Whirlpools in unserem tropischen Garten, der Zugang zu allen Gartenbereichen und der Olivenbar, die Yoga-Plattform im Freien mit Blick auf die Berge und das beheizte Innenstudio enthalten.
Außerdem haben wir kostenloses WIFI und bieten eine kostenlose Wäsche für Yogakleidung an. Außerdem haben wir alle Yogarequisiten für jeden Yogastil. Sehen Sie die Einrichtungen
Jacqueline will offer 2 yoga practices per day- to uplift and energise a 90 minute morning practice starting with meditation and pranayama with a vinyasa flow class to energise and lift before breakfast then a restoring yin practice with guided relaxation to unwind before dinner.
Wir bieten eine Vielzahl von optionalen Dienstleistungen an, die Sie in Ihrer Freizeit buchen können, wie z. B:
Jacqueline found yoga during a difficult period of her life, it helped her manage stress and anxiety and the demands of a busy mum of two with a job that involves travelling all over the world.
Being drawn to Bikram initially, she found this gave her the routine and structure her life was missing. It was after her first Vinyasa Flow class at The Sweatbox in Seattle she fell truly in love with yoga, a passion ignited that she needed to share with others.
Jacqueline has spent many years travelling the world visiting many amazing yoga studios, experiencing a diverse range of yoga teachers that have moulded her into the teacher she is today.
Expect challenging, strong classes with a variety of options to suit energy and level that encourage you to listen, explore & connect to your body.
Jacqueline has assisted in a Yoga Teacher Training with Shanti Yoga Glasgow, she has trained in Yin Yoga, Pregnancy Yoga and when not teaching yoga she is a Fully qualified Massage Therapist specialising in Swedish Massage, Deep Tissue and Indian Ayurvedic Abyanga Massage.
Jacqueline has opened her own Yoga & Massage Studio in Glasgow – A sanctuary to escape the noise and take care of your mind body and soul.