Disconnect & Recharge Yoga retreat with Angie
Ideally located in the small Spanish hamlet of La Alqueria, a peaceful country location with mountain views 20 minutes to the beautiful beaches of the Costa Del Sol.
Dies ist der perfekte Ort für eine Pause von der hektischen Welt, um den Geist zur Ruhe zu bringen, neue Energie zu tanken und tiefe Inspiration für Ihre Yoga-Praxis zu finden.
The venue offers you all of this and more – lush gardens, fruit trees, salt water pool, two yoga spaces; the shala, set within the fruit and olive trees, and a purpose built hot yoga room.
Swimming pool heated to 25 degrees & jacuzzi 38 degrees.
The meditation viewing platform is the ideal spot to enjoy the sunrise, have a little quiet time or enjoy an evening meditation
You will experience the sound of birds, enjoy the surrounding landscape and mountains, and the breathtaking sunsets.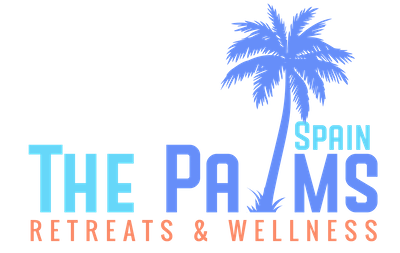 Die Retreats beinhalten Ihren Aufenthalt in einem unserer gemütlichen, aber modernen Zimmer entweder in den umgebauten Stallungen, der Finca oder dem Poolraum.
Jedes Zimmer hat ein Einzel- oder Doppelbett, ein eigenes Badezimmer mit Dusche und WC, Klimaanlage, Deckenventilator, sonnige Terrasse und alle Toilettenartikel, Handtücher und Bettwäsche werden gestellt.
In diesem Retreat-Paket ist die Nutzung unseres beheizten Salzwasserpools, des großen 6-Sitzer-Whirlpools in unserem tropischen Garten, der Zugang zu allen Gartenbereichen und der Olivenbar, die Yoga-Plattform im Freien mit Blick auf die Berge und das beheizte Innenstudio enthalten.
Außerdem haben wir kostenloses WIFI und bieten eine kostenlose Wäsche für Yogakleidung an. Außerdem haben wir alle Yogarequisiten für jeden Yogastil. Sehen Sie die Einrichtungen
Your day starts with a 90-minute yoga class in the shala (2 beautiful spots: An indoor heated studio, and an outdoor rustic yoga Shala located in the garden), followed by a lunch taken on the outdoor terrace.
Between your yoga classes, you can enjoy walks in the surrounding countryside or just relax at the villa where you will find a heated salt water swimming pool with an inbuilt seating area where you can enjoy a drink whilst cooling down, a six-seater hot tub …
You will ended your day by a relax yoga class followed by a yummy dinner
Wir bieten eine Vielzahl von optionalen Dienstleistungen an, die Sie in Ihrer Freizeit buchen können, wie z. B:
Angie is a patient, friendly and considerate yoga teacher. She teaches both strengthening, mobility-aware dynamic practices and deeply explorative yin yoga practices.
Drawing on her passions for psychology and well-being, creativity, awareness and exploration, Angie's classes are intended to be compassionate yet challenging and she always brings a sense of realism and humour to the practice.
Whichever class style, these practices will leave you feeling more grounded, stable and connected to yourself.
In terms of the classes "Dynamic morning movement practice and yin yoga in the evening".